Create an expense with travel calculation
Currently PlanMill has a support for the calculation rules of the Finnish laws.
Go to Expenses > Expense sheet.
Click New Expense.
For Type field, select Travel.
Click New Travel Calculation.
Add Start and Finish dates and times.
Fill Travel route information

If you use your own transport, select a vehicle in the Own transport field and add the possible amount of passengers.
In case of foreign travel daily allowance claim, read more below.

Enter any provided meals on the payable allowance days.

Note: Meals you should count depend on your country and company policy. Enter meals provided for each 24 hour-period included in your journey.

Click Save And Calculate.
In the expense form type in Purpose, select related Project and add other Expense items.
Add other necessary information.
Click Save As New.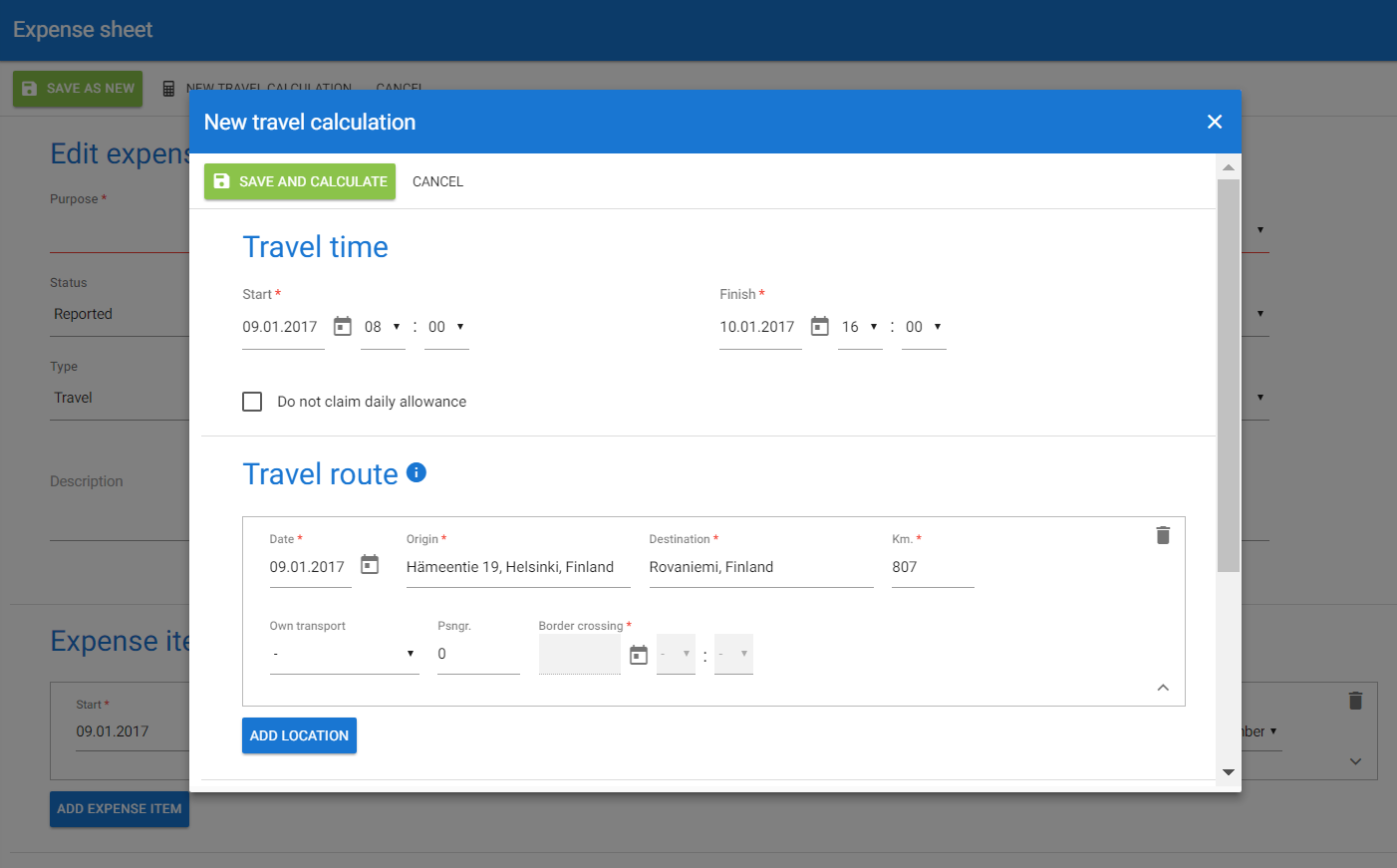 Foreign travel daily allowance claim
The travel expense calculator supports both domestic and foreign travel in the same form. Foreign journeys additionally require a border crossing to be entered.
When you enter the journey legs in the travel calculator ensure that for e.g flight destinations a distance is entered manually as the auto-fill only supports drivable destinations.
Border crossing for a flight or a ferry journey
In the case of a ferry or flight, enter the departure time (in ticket) when leaving the country of residence, while for all other border crossings (including the return leg) please enter the arrival time.
Enter all times in local time (system adjusts for timezone difference where appropriate).
Border crossing for a driving journey
In the case of a driving journey please enter the actual border crossing time.
When leaving or returning to the home country use the local time of your home country. For other border crossings use the local time on the arrival country.