Introducing Time Calendar for easy time tracking
PlanMill Time Calendar is a latest member of comprehensive PlanMill Time Management solutions. New responsive Time Calendar provides an easy and visual way to track billable and non-billable hours in a weekly or monthly calendar views. PlanMill Time Calendar will be available to all PlanMill PROJECT and ERP customers as an add-on service.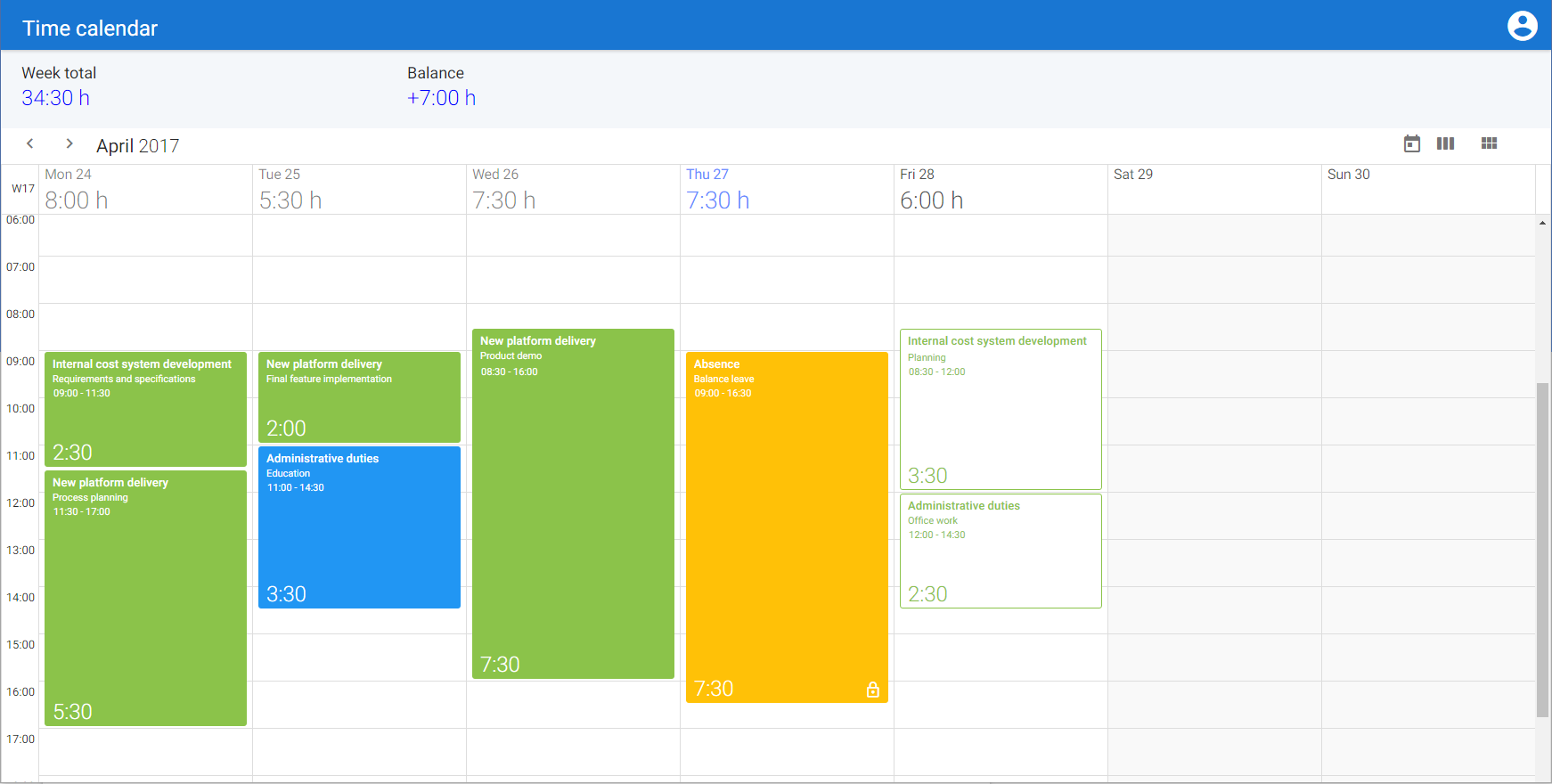 User-friendly time tracking
We are happy to announce that tracking time with our Time Calendar is even easier than before! Now you don't have to fill in information for two places. You can log your hours and track time in just one place. Just drag, drop or log the time report to the right duration.
Get an instant big picture
Time Calendar has also different color codings in time, for example for non-billable and billable time, which are essential for companies on different projects. When managing projects it's vital to know how much money and time are spend on each project. Calendar view and color coding helps you get a full view of your weekly or monthly time reports. And you never lose a minute of your billable time.
Use it anywhere and anytime
Your Time Calendar time entries are synced in real time, anywhere and anytime. It's flexible and scalable, so you can use it from mobile devices to desktop computer. Hit the button on your phone and it automatically updates to your other devices. That simple.
Key features as follows:
Track the time spent on various tasks and projects
Predefined color-coding for billable and non-billable hours and absences
View your absences, locked time entries and balance leave/flex time
Track preliminary time entries
Support for roundings
Calendar views in  daily, weekly and monthly modes
Support for multiple devices such as PC, Mac, tablet and smartphone
Key benefits as follows:
Easy time tracking in one place
Simplicity, calendar view and color coding helps you to get an instant overview
Usable any device, anywhere and anytime via browser
Its fully integrated to PlanMill PROJECT and ERP solutions
Time Calendar is easy to use, you don't need for lengthy training sessions, your team will be up and running in no time. It works seamlessly on mobile devices and desktop computers and is designed to adjust to meet the user's needs.
More information is available in our Help.