How to manage part-time capacity
Simply add any suitable existing part-time work time calendar e.g. '6 hour work day, Mon-Fri' directly at the user with the new 'Valid from' field. This also applies to moving from part-time back to a full-time work agreement.
Note: As of 19.09.2017 part-time employees will no longer need to have their own capacity calendar for the purpose of changing from full-time. Do not use a personal capacity calendar and its 'start date' to manage individual users.
Create a new capacity calendar only when no existing calendar is suitable
Only in the case that a user's work-time arrangement is a completely new scenario would it be necessary to create a new capacity calendar.
We strongly recommend using a minimum set of calendars which are shared by all users with the same work-time arrangements. The valid from date in the user capacity calendar settings now enables this.
When you are creating a capacity calendar pay attention to the following fields:
Name (a useful general name such as '5.5 hour work week' rather than a user's name)
Type (assists when selecting for a user)
Start and Finish dates define only the general availablity the calendar for use (while a user's 'hire date', 'calendar valid from' and and 'departure date' define for their actual capacity)
Country (public holidays are country specific)
Default work time daily
Default work days weekly
Default week start day
After you have created the new capacity calendar go to People > Users and add it to the user needing it. If the employee has already been working with an exisiting calendar then you must provide a 'Valid from' to indicate when the new calendar should apply to them. You can easily check a the user's daily capacity for a given date from their Timesheet.
If you want to make changes to certain periods, you can edit capacities for single days.
Example calendar:
Type: Part-time
Default worktime daily: 5h
Default work days weekly: 4
Person works for 4 days a week
Default week start day: Tuesday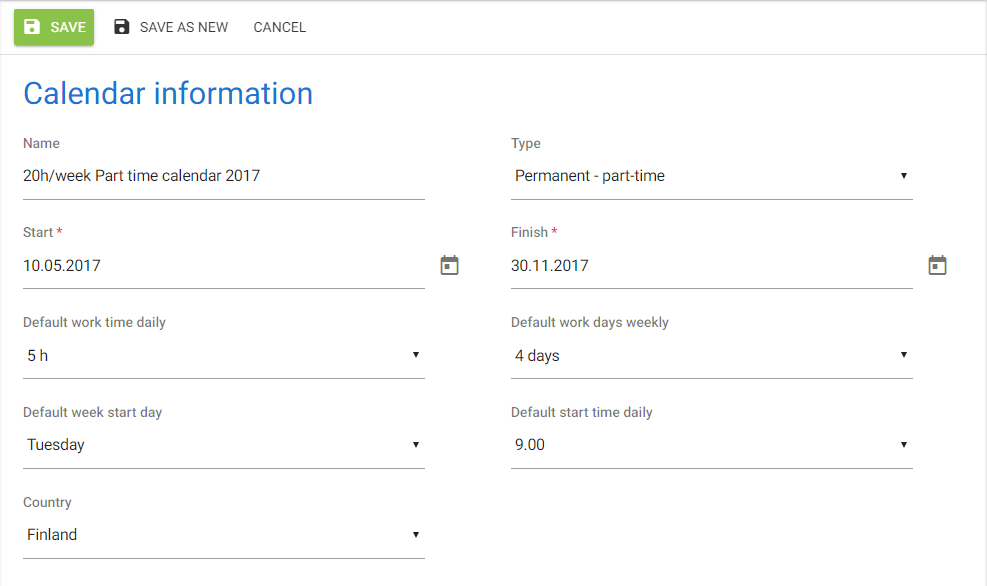 Edit a part-time capacity calendar
Go to People > Capacity.
Select correct calendar.
Click Edit capacity.
Select all the dates where you want to edit capacity and enter the new capacity.
Click Save.
Note: Don't add description for these days. If you add a description PlanMill Absence module will interpret them as general holidays with zero capacity.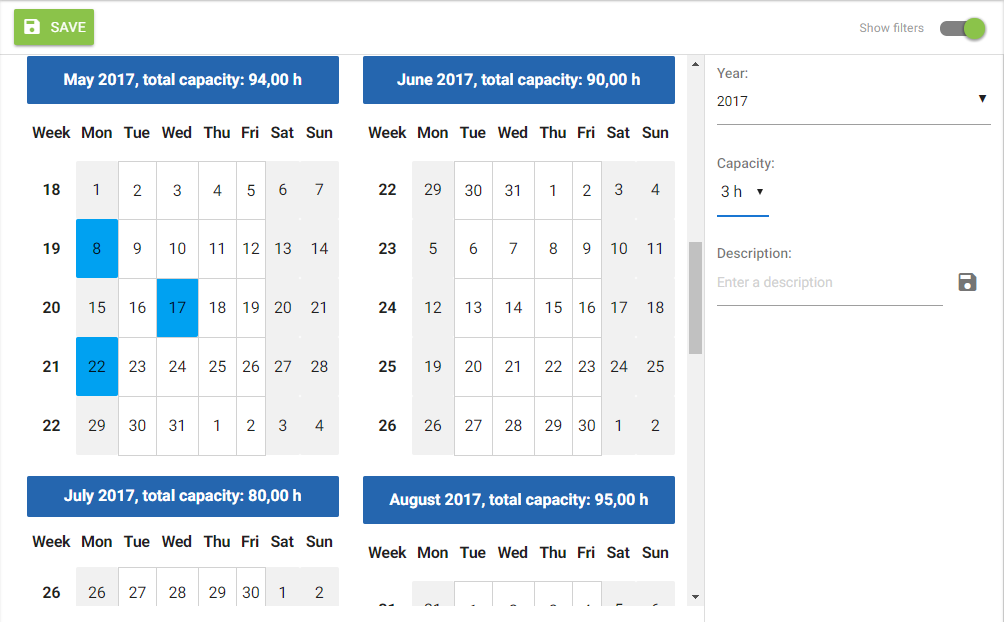 Entire day absence for a part-time employee
A one day absence will generate an absence for as many hours as there is capacity for that day. For example, an absence for a day with 3 hours of capacity will generate a 3 hour long absence.
What if employee reports more hours than the daily capacity
If an employee reports more hours than the daily capacity, system will add the additional hours to balance hours.
Example: If person has 3 hours of capacity for a certain day and he/she reports 5 hours for that day, 2 hours will be added to the balance.